About

"Experience the miracle!"
An exhibition of the works of Noriyoshi ohrai, who produced poster artwork for world-famous movies including "Star Wars" and "The Goonies", will be held at Miyazaki Art Center, from Saturday, February 8th to Sunday, March 23rd, 2014.
This exhibition marks the first time an extensive display of world-famous illustrator Noriyoshi ohrai's works can be viewed all at once.
Aloof artist ohrai has been producing artwork for various media sources, including films and books, for almost 50 years. Interest in re-evaluating his work has been increasing of late.
To mark this first, extensive display of ohrai's artworks, books, magazines, and posters, etc., 1,000 pieces (including 300 original drawings and rough sketches) have been selected from several thousand works, treasures of Miyazaki and Japan, making this a truly impressive private exhibition.
As well as acting as a retrospective look at the incredible feat of an artist who worked in an era where fax and email did not exist, and who made a name for himself purely on the grounds of his ability, this exhibition intends to give hope to and inspire the dreams of young artists working in rural areas.
---
Introduction of Noriyoshi Ohrai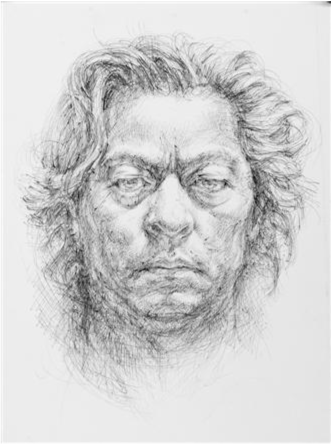 1935 (Showa 10). Born in Akashi City, Hyogo Prefecture.
March, 1957 (Showa 32). Dropped out of the Oil Painting Course at Tokyo National University of Fine Arts and Music.
1962 (Showa 37) onwards. Began work laying out and illustrating books, and editing newspaper advertisements.
March, 1973 (Showa 48). Relocated to Miyazaki, his wife's hometown, where he set up his studio the following year.
1980 (Showa 55). Worked on the international poster for American film "Star Wars Episode V: The Empire Strikes Back". Won the Seiun Best Artist Award for his work on the poster at the Japanese SF convention.
1981 (Showa 56). Held his first exhibition as an artist at Aoki Gallery in Miyazaki. The "Star Wars Episode V: The Empire Strikes Back" international poster created a massive surge in demand for his artwork, both from within Japan and abroad.
1980 to 2010. As well as book illustrations and film posters, ohrai produced a great many works in a variety of media, including commercial posters, game software, plastic model kits, and records.
As well as the above, ohrai had the opportunity to contribute to a wide-range of high-profile projects, as listed below.
1984 (Showa 59). Poster Artwork for the film "Godzilla" (and also for the subsequent 8 films);
1985 (Showa 60). Poster artwork for the film "The Goonies";
1988 (Showa 63) onwards. Package illustrations for the "Nobunaga's Ambition" series of computer games, and;
2006 (Heisei 18). Poster artwork for the film "The Sinking of Japan" (a remake of the 1973 original).
---
FAQ
Q, a term of exhibition
from February 8th to March 23rd, 2014.
Q, Admission Fee
It will be announced soon.
Q, The date of the sale of the tickets
It will be announced soon.
Q, Where can I buy an advance ticket?
A Miyazaki Art Center, Miyazaki Kinema Kan, Yamakataya in Miyazaki, Bonberuta Tachibana, Aeon Mall Miyazaki, Miyako City, Miyazaki Airport, Co-op uMiyazaki, Pia, Seven-Eleven, Lawson,
Q, Where is Miyazaki?
Please click the link below.
Miyazaki Tourism Association
---
Access
3-3-27,Miyazaki-city,Miyazaki,Japan
TEL: 0985-22-3115
FAX: 0985-22-3116
---
Contact
[contact-form-7 id="1018" title="Contact"]